Trowse Research Ship Launched: Boaty McBoatface II
Well despite the popular vote, it  always looked  unlikely that the people at Natural Environment Research Council's (NERC) would take the name 'Boaty McBoatface' to name their new £200m polar research vessel, so I thought I would  TRS Boaty McBoatface II is the name of the new ebay-sourced Trowse Research Ship, who's purpose is to explore Norfolk and discover and discover the wilds of Norfolk  via the waterways. 
The name Boaty did capture the spirit of English, slightly bonkers eccentric explorers yet as with modern politically-correct-run-by-committee England, it was replaced with something a tad more traditional: RRS David Attenborough. I wondered if they also considered something like 'RRS Boringly Acceptable'. Still, great to name the boat after the delightful Mr Attenborough who has delighted so many with his documentaries. It is great that Boaty as a name wasn't abandoned though and was given to one of their remotely operated vehicles.
So my Boaty McBoatface II has taken on the name with a  misson to go further and deeper, exploring new aspects of the waterways of Norfolk. Already significant discoveries have been made like the best (and probably largest) cooked English breakfast is to be found at the Surlingham Ferry, the tastiest roast is at the Bramerton Water's Edge,  Rockland broad contains the remains of 13 scuppered Norfolk Wherries that rise up at low tide like skeletons. Also, going to be featured in my upcoming book "Norfolk-That Sinking Feeling" will capture in photographs many of the boats that are slowly decomposing in the waters of Norfolk.
Back to Boaty. I did think of christening her with a bottle of bubbly, but her aging hull probably would have cracked and sunk her, and an awful waste of good champagne!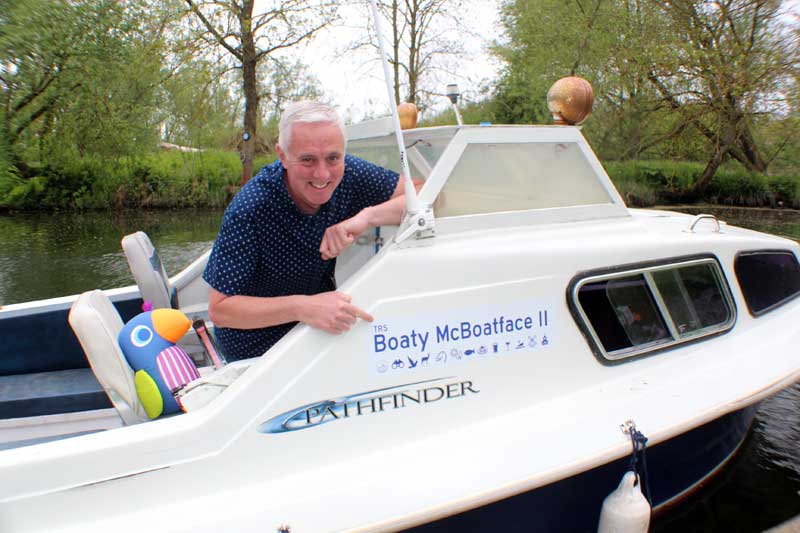 So Boaty has been named as a tribute to the original explorers, the 124 thousand or so people who voted for the name, and to the spirit of adventure and slightly rebellious fun within the spirit of the British people.
Alas, she is Boaty II, as there will only be one Boaty McBoatface and she will be sailing into polar regions as the RSS Sir David Attenborough.
Expedition Yarmouth – Polar Mission
Some people say that Norfolk's Great Yarmouth is poles apart from the cosmopolitan Norwich. So Boaty's first long term mission is to Yarmouth.
Although familiar with the land based wildlife, little is known to me about the water based variety so I will be taking my binoculars and camera to record any new species. Failing that, while I am there, I will endeavour to source sustenance in the form of doughnuts, chips and curry sauce.  Fishing tackle will also be taken with a view to catch dinner for the evening if I still feel like eating after all the doughnuts.I have no idea whether Boaty's meagre fuel tanks will be enough, or indeed if my AA membership covers boats (unlikely!) but will be interesting to phone up and say my location is the middle of a river..
The Slaughters at Rockland
This is the name given to all the 13 scuppered Norfolk Wherries in Rockland broad. Equipped with a canoe for close inspection, a bottle of overnight sustenance and underwater cameras, I will endeavour to document this unique phenomenon I try to capture the eerie way their skeletal structures rise from the water from time to time.
The Big One
Norfolk's finest hospitality and breakfast is to be found at the Surlingham Ferry pub.Mission: to see if it was as good as last time and say hello to Fred Basset, their dog. The Ferry really is a lovely locals pub and really welcoming to everyone. It's a bit like a trip back in time some ways, back to the days were locals were a bit random and health and safety didn't often rear its head. Nor did political correctness if you pop into the gents.. Despite the rather odd coffee machines, they do a fine espresso or latte for those who aren't tempted by their good selection of beers.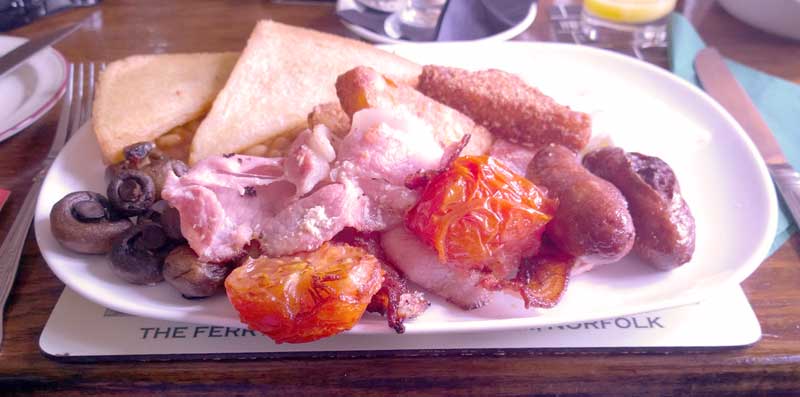 Sinking Feeling
I've always had a fascination with wrecks, there's always an eerie beauty attached to them.Given the craftmanship involved in creating them, to see them slowly being reclaimed by nature, yet like historic statues they do remind me of something of the past. Anyway, I'll being trying to photograph and document many that are strewn around the South side of Norwich after the summer. Watch this space!

Toodle pip
–