hamburger miracles in Leeds
Have you ever been frustrated by UK health and safety nannies telling you what you can and cant eat? Ever been asked how would you like your meat cooked only to be told you can only have it within the 'safe' parameters of mediumly overcooked, or massively overcooked? Well, there is hope. After years of searching, I believe there was a divine moment in Leeds.
So what was this divine moment? I was asked how I wanted my burger cooked and I asked for rare. Lo and behold, the waitress said "The chefs will be pleased to be asked to cook it this way." You see, to get the best flavour out of good meat this is how it needs to be cooked. Not medium, not well cooked, or for that matter, rare, as it's probably best cooked blue. So often, people refuse to cook it this way because of some health and safety fear. Even when I say I would be happy to sign a disclaimer to take responsibility for how I ask it to be cooked, there has been not a single place in the UK I have come across that is willing to allow me to take that responsibility for fear of being sued if it turns out the meat gives me some disease.
How sad this is that tasty food is denied to us because of fears of health and safety.
How great it is to see that a company (The Chicago Rib Shack) at the Trinity Kitchen in Leeds is willing to give great food that you ask for.
It was probably one of the best burgers I have ever tasted. What's more, the staff were wonderfully friendly and great fun.
Whilst I was There..
As four of us were chomping away saying how lovely the ribs and burgers were, a man with a Polish accent came up and asked if I would buy him lunch. Although he was a bit smelly, and probably without a proper home, I agreed. I admired his directness and took him to another place he chose at  Trinity Kitchens. Whilst queuing up (inevitable, this place is so popular!) I found out a little bit about him. He was having a hard time, and he had Aids. It would have been easy to pay his bill and send him on his way, but I invited him to join us.
He was obviously very hungry by the speed at which he ate his tortilla. What was interesting in conversation was his eloquent grasp of English, kindness and humility. It was lovely to be able to chat with him, introduce him to the crew and invite him to the Leeds Church that one of the chaps led. He was a man who believed in God, just not in church which made me think. His experiences weren't great, and chatting with him he wasn't that welcomed in churches he had been to, which I can fully appreciate.
It's it sad how many people's experience of church are the same? How many people leave church because of their experiences of it? Anyway, having been to this church in the morning I didn't have any worries about recommending him to go. It was a church (Life Church) based in Bradford, but with campuses in Leeds and Belfast. For those who are interested in the challenges their leadership faced with crossing over from what the church was before Paul Scanlon took over, to what it is now, one of the most vibrant and successful churches in the UK, read Crossing Over
I hoped that we were all good witnesses to him, and some good seeds were planted that day.
A Special Thank You.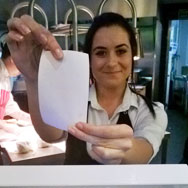 This was the lady who served us. Wonderfully friendly and even willing to have her photo with the bill showing the burgers were cooked rare. It made me think about what I've thought all along, the people on the front-line of whatever business or church they belong are the best representatives of the organisation itself. Not the bosses, or the accountants, or even the leaders, but those on the front line who speak volumes to people like me.
Also a big thank you to the team in Bradford for the Excel2013 conference! Amazing time. Fuel to keep me going for the next year!