How Deliveries Should be Done!
Ever eagerly waited for a parcel to be delivered only to wait in, it not to arrive until you pop out for some milk? Every now and then I am wonderfully surprised by a company that has really thought things through. In this instance, the delivery company DPS.
You know how we love online purchases?  For so long thought there's been that little dampener when it comes to receiving things. You might be at work, or have waited and waited on the day but have to pop out. Well, here's why I think DPS (who I've never really heard of before) are getting it so right with my purchase off energy efficient light bulbs from www.ledhut.co.uk! It's a great example of two great companies doing what they do really well!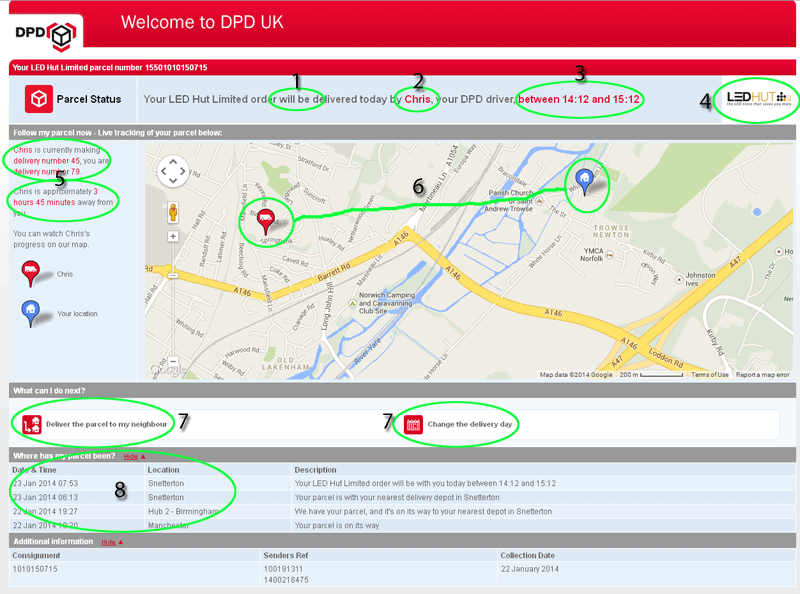 So here's why I love this delivery company (numbers refer to above picture):
I love the fact they WILL deliver, fills you with confidence that they know what they are doing.
Chris is my driver. Isn't it nice for someone to knock on your door and you can sell "Hello Chris, thanks or delivering my parcel!" They must like it too – boosts their morale.
I love the 14:12 to 15:12 slot. So precise, but also reasonable to give a hour slot for delivery.
It tells me who I originally ordered from. Reminds me of what exciting goodies are on their way!
It's great to know the company is busy, where you are on the list, and a reasonbly good update of when they are due based on live information.
Isn't it lovely to know the actual van is not far away, kind of builds up the excitement!
If things my end change, so there's a clear and simply way of changing things. I can ask my neighbour for example if they are in, to accept the parcel. Again, it's live information so the driver will know when he arrives any change of plan.
I don't know why I like to know where the parcel has been, but strangely reassuring and makes me realise how good value for money the postage costs were.
Everything is presented in a clear and simple way, with notifications via SMS and email, links directly to the page above.
Well done DPS!
I can't fault them for this service and given what I see, I'd definitely recommend them and use them again! In fact, when you take a look around their website their dedicated to customers and their staff is amazing.
And by the way, if you are wanting to replace your inefficient light bulbs with low power super efficient ones, here are the people to buy from! It's not a surprise that the LEDHUT has teamed up with DPS – both are amazing examples of companies you would happily use again and again..
And Finally!
Here's Chris – a credit to his company and a little pressy given by LedHut!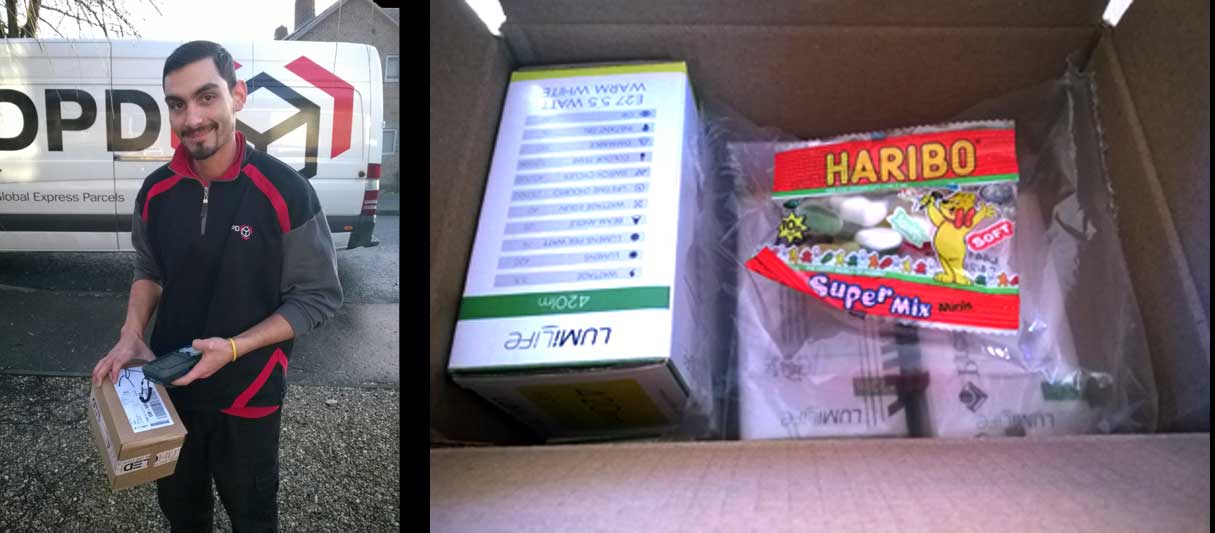 -Martin